Sometimes a prayer, tucked neatly into the Scriptures, surprises me. I had just such an experience recently.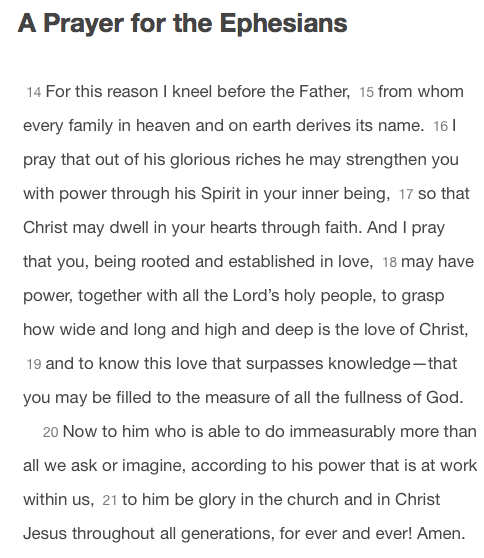 A couple of weeks ago, I heard a sermon by an exceptionally gifted pastor, Ben Browneye, at Riverside Christian Reformed Church. Ben talked through Ephesians 3:14-21, and described not only the beauty of this Scripture, but the audacity and complete assurance by which Paul, the author of the letter to the Ephesians, writes and prays.
Paul prays, on his knees, when prayer was usually standing.
Paul references the love of Christ in it's breadth and height, and then adds the 3rd dimension of depth.
Paul notes that this love is beyond head-knowledge.
Paul describes God being able to do immeasurably more than all we can ask, or even imagine.
In true Reformed tradition, Ben presented that, by the grace of God, the believer becomes what he or she was meant to be; what he or she was created to be, by our creator. We are to be ever more shaped into the the image of God. Ben provided connections between these verses in Ephesians and others in Jeremiah 31, and Isaiah 35. It was exciting to watch and hear him build up to the question, how does Paul have the guts to ask for this immeasurable grace? It is because he is sure that it is a sure thing.
As Ben wrapped up, he re-worked the scripture into an updated prayer that is perhaps a little friendlier to our ears and mouths that are unfamiliar with the Biblical Greek.
Father, by Your Spirit, strengthen my heart – grow my faith – that I may experience Christ more and more by the week, by the day, by the hour, by the minute – may I grow evermore in Your Grace – that I may be ever more sure of your Love for me – and ever more loving of those around me.

Father, will You – by Your creation, Your Word, an action of the church, or something from a fellow saint – could You in some way open my mind today to grasp something of the completely unthinkable Wisdom and Thought of Your grand salvation plan – found in, and exemplified by, the unexplainable Love of Christ Jesus.

And lastly Father, even on my best day – and in all likelihood this day isn't it – I am tainted, stained, and poisoned with the sin which I choose and that which should eternally damn me as Your enemy. But I am here at Your feet, to ask that You fix me. That You, despite the fact that I forfeit any claim to what You created me to be, that You restore me to exactly that.

In Jesus' Name. Amen.
More than anything in the Christian life, we must remember that our prayers should focus on God changing us, rather than us trying to get God to do what we want.