The Bible is the account of God's action in the world and His purpose with all creation.
Forty authors, inspired by God, wrote the text of the Bible over the course of sixteen-hundred years, compiling a collection of books documenting God's words about everything, from the creation of everything to the end of times. Each book of the Bible has its own message, perspective and purpose directed by God through the people who first recited the words and later wrote them down. Some Christian confessions keep to 66 books in their canon (39 Old Testament and 27 New Testament) while some include an additional 7 books, also called the Deuterocanonicals (second canon) or Apocrypha.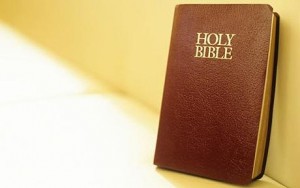 The Bible contains stories of how people followed God's leading and how they chose not to. There are poems and songs, prophesies, proverbs and parables.
The Bible also contains accounts of the life, death and resurrection of Jesus Christ, the physical person of God. Later, inspired by God's Spirit, authors wrote letters to groups of early Christians that met in homes.
Amidst the remarkable diversity of the Bible, is amazing unity of message and purpose.
When I speak, and on my Facebook pages, I usually use a combination of the Contemporary English Version (CEV), English Standard Version (ESV), the Good News Translation (GNT), The Message (MSG), the New International Version (NIV) and New Living Translation (NLT), and sometimes people ask why I use those versions, rather than ones they prefer. This is an excellent question and it's not one we ever want to shy away from.
My first concern is that the Word of God is accurately conveyed in a language and format people can understand. While I've been involved in USA-based ministry and operate primarily in English, I want to ensure readability for those who speak and read English as a second language. The CEV has been prepared for two primary purposes. First, as an audio version so it can be heard and understood, and secondly as a ESL-friendly version. The CEV was translated at about a 4th grade level. The GNT is at an 11th grade reading level, so even it is sometimes difficult for people to understand. The NIV is the one used by many protestant denominations, and the Message just works for me sometimes.
All of those versions were translated from the best available, oldest original texts and languages of the time. Some of them used a translation method called "dynamic equivalent" or "meaning" translation. In other words, each word and sentence in their original language (Hebrew, Aramaic and Greek) was examined in context of the verse, chapter, book and the whole of scripture – and then translated into English. This method of translation often provides a version of scripture that resonates very positively with people, while still preserving the scholarly and spiritual needs of scripture translation. Others of those versions used a word for word translation method. This method is of course legitimate and the oldest form of Biblical translation. Most importantly, the people reading these versions have it in their own language and don't have to learn the ancient Hebrew, Aramaic and Greek to read God's word.
From an inter-confessional perspective, both the GNT and CEV versions are approved for use by Protestants in general, by the Roman Catholic Church (larger than all Protestant churches combined) and also by the Orthodox Church (larger than all Protestant and Roman Catholic churches combined). Because I do try to serve the whole church, and not one particular confession over another, I cautiously use any version that has not met the stringent guidelines of all three confessions within the scope of Christianity.
The BibleSerach tool at bibles.org (where I used to work) has over 850 Versions in 715 different languages as of this writing (updated 11/25/2014) and only 26 are in English (US/UK). Other excellent tools include:
Bible.com (YouVersion)
BibleGateway (also where I used to work)
Bible Hub (including Greek and Hebrew)
No matter what version of the Bible you prefer, it's important to remember versions like the KJV, GNT, CEV, NIV, ESV and so on, are English language versions. Each language group has its own favorite versions, and each confession and tradition it's favorites as well.
2 Timothy 3:16
GNT: All Scripture is inspired by God and is useful for teaching the truth, rebuking error, correcting faults, and giving instruction for right living,
KJVA: All Scripture is given by inspiration of God, and is profitable for doctrine, for reproof, for correction, for instruction in righteousness:
CEV: Everything in the Scriptures is God's Word. All of it is useful for teaching and helping people and for correcting them and showing them how to live.
NIV: All Scripture is God-breathed and is useful for teaching, rebuking, correcting and training in righteousness,
NASB: All Scripture is inspired by God and profitable for teaching, for reproof, for correction, for training in righteousness;
NIRV: God has breathed life into all of Scripture. It is useful for teaching us what is true. It is useful for correcting our mistakes. It is useful for making our lives whole again. It is useful for training us to do what is right.
AMP: Every Scripture is God-breathed (given by His inspiration) and profitable for instruction, for reproof and conviction of sin, for correction of error and discipline in obedience, [and] for training in righteousness (in holy living, in conformity to God's will in thought, purpose, and action),
ESV: All Scripture is breathed out by God and profitable for teaching, for reproof, for correction, and for training in righteousness,
NLT: All Scripture is inspired by God and is useful to teach us what is true and to make us realize what is wrong in our lives. It corrects us when we are wrong and teaches us to do what is right.
BIMK: Semua yang tertulis dalam Alkitab, diilhami oleh Allah dan berguna untuk mengajarkan yang benar, untuk menegur dan membetulkan yang salah, dan untuk mengajar manusia supaya hidup menurut kemauan Allah.
TB: Segala tulisan yang diilhamkan Allah memang bermanfaat untuk mengajar, untuk menyatakan kesalahan, untuk memperbaiki kelakuan dan untuk mendidik orang dalam kebenaran.
FCL: Ca Thianghlim hmuahhmuah hi Pathian ih thawkhummi a si ih thutak zirhnak, zirhsual simhrinnak, a sualmi remsaalnak ah le dingteih nitin nunnak ih zirh awknak ah a òha.
NBS: Toute Ecriture est inspirée de Dieu et utile pour enseigner, pour réfuter, pour redresser, pour éduquer dans la justice,
Biblean 85: Alle skrifter som er innanda av Gud, er òg gagnlege til opplæring, til formaning, til rettleiing, til oppseding i rettferd,
BPT 09: Toda a Escritura é inspirada por Deus e serve para ensinar, convencer, corrigir e educar, segundo a vontade de Deus,
MSG: Every part of Scripture is God-breathed and useful one way or another—showing us truth, exposing our rebellion, correcting our mistakes, training us to live God's way.