A few years ago my parents visited me in Philadelphia, and I took them to a Camden Riversharks minor league baseball game. They got to meet my friend Holly (now my wife) and we had a lovely time. Oh, and I became a Sumo Wrestler.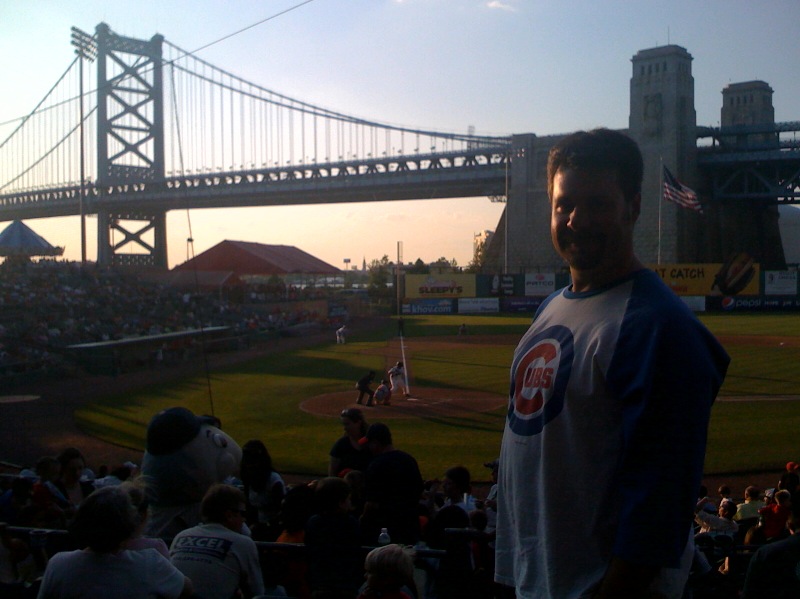 One does not simply become a Sumo Wrestler.
It take years of training and dedication, unless you are at a minor league ballpark. In this case, as I walked into the concourse, a young lady with a clipboard approached.
She asked, "Can I interest you in taking part in a promotion?"
I replied, "Is the the one where you get dressed up in a giant latex Sumo Wrestler suit?"
"Yes…" she said, dejectedly.
"Sure!" I beamed.
Her face lit up like Christmas. She got some information from me, found out where I was sitting, I signed a release, and then sat down with my family.
The 7th inning started and they came for me. I was ushered into the visitors tunnel, where I and an 8th grade science teacher would suit up and wait. I should mention this was August. It was 94 degrees on the field, and 211 degrees in the giant latex Sumo Wrestler suit. We sweated, and we waited. We talked a little strategy. And then, this happened.
My mom shot this video with her phone, a nice phone for the year, and it was from all the way across the infield, but you can hear Holly laughing.
They 8th grade science teacher won a t-shirt. I won a brewery tour (which I gave away to someone who drinks beer).