Today is the 2007 Day of the Ninja.
It's the day when all ninjas together with non-ninjas (non-jas) gather in their normal everyday locations, in their secretive ninja attire. Don't confuse this with Talk Like A Pirate Day which involves no costumes and is all about your piratey language; especially since ninjas are silent.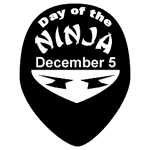 Want to participate? All you have to do is pretend you are a ninja.
There's plenty to see and do today.
Check out Ask a Ninja and learn about the origins of Day of the Ninja.
Visit the official NinjaDay2007 site
If you're not prepared with a ninja costume today, learn how to make a ninja mask out of a t-shirt.
Today, the whole world is just a little deadlier.