Have you ever noticed that I don't play games or use these gadgets on Facebook? Ever. (ok rarely). Ever wonder why? Here's what I wonder, "why would someone make a free viral tool or game?" Why would they give away something cool? Why would they give away something so cool that hundreds, thousands, or millions of people would use it? There's a real reason.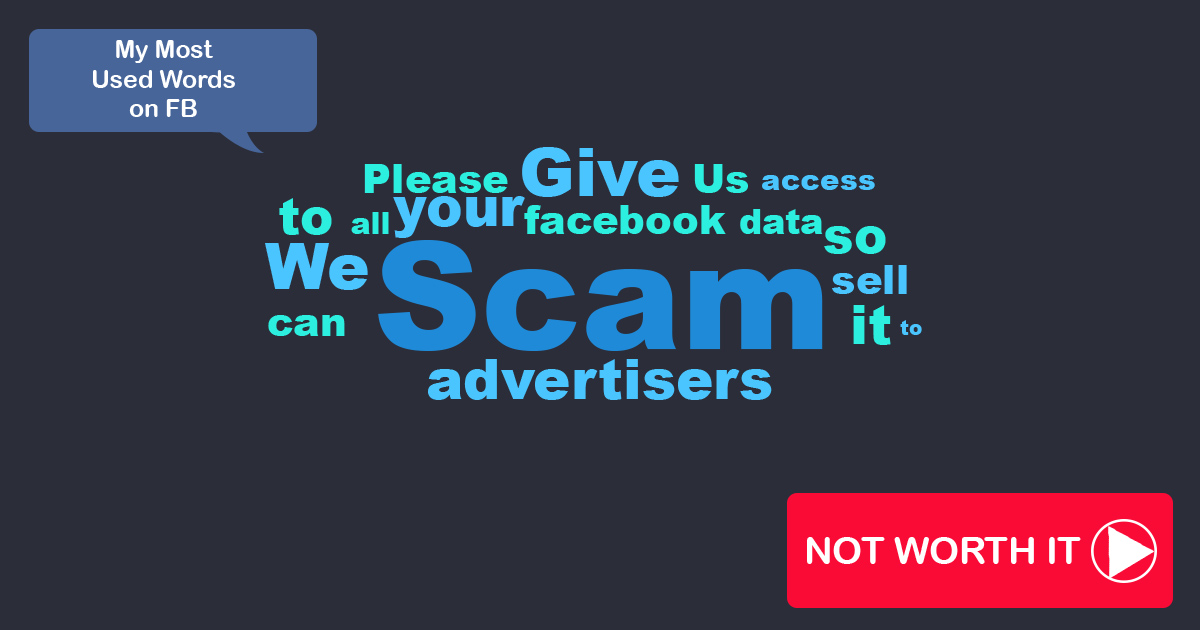 Data
Lots of data.
Your data.
All your data.
All of your data belongs to them forever.
Are you just giving it away?
Facebook Permissions
Facebook houses all your data and makes it possible for you to enjoy this wonderful social environment – at no charge. If you delete your account, Facebook deletes your data – except the stuff that other people have shared. That stays around until they delete it. So, let's not worry about Facebook. Let's be aware of the other permissions we give to third-party products.
Permission
When you fire up one of these Social Media gadgets, the tool has to access your data. It needs to crawl through your posts, the information you've provided, and sometimes your friends. You give it permission to do all of that. No, really you do. Once they have it, removing the permissions doesn't remove your data from their systems. They've still got it. You gave it away. Forever.
In the case of "Your Most Used Words on Facebook" as of November 20, 2015, 14,396,801 people had given their personal information to Vonvon – the producers of the gadget – since the app (or quiz as they call it) went live on November 17. Over 14 million people were just giving it away. I'll bet they didn't know what Vonvon was going to do with their data. As I looked through their listings – this was clearly their most successful campaign to date. It's not an evil company. They found a way to make money. They have a privacy policy and everything! Here are some highlights:
Vonvon may collect personally-identifying information that is unique to such users (such as their name, profile picture, gender, birthday, internet protocol (IP) address and Facebook friend list.
Vonvon processes Personal Information on its servers in many countries around the world. Such information may be stored on any of our servers, at any location.
We do not share your Personal Information with third parties unless We have received your permission to do so, or given you notice thereof (such as by telling you about it in this Privacy Policy)…
Get the idea? There's nothing inherently wrong with what they're doing, after all, you told them they could have your data. It's not their fault that you didn't read their policy.
Since they are not a Facebook app or game, you can't restrict their access to your data once you've given it away, without contacting them and asking them to delete it.
Take Some Steps
Once you start being careful about what apps and games you use, you can check your security settings.
First, use Facebook from your computer, not an app or mobile device. You can see and do more.
Run the Privacy Checkup (Privacy Shortcuts – Privacy Checkup). This handy tool walks you through your permissions for posting, apps and so on.
What apps are there, that you don't use anymore? Don't keep giving them your data if they don't need it. Delete the ones you don't use, be sure the ones you do use only get what they need.
Does your profile data contain information that you wouldn't want the general public, or advertisers to have? You can set the permissions to "friends" or even "Only Me" to help protect that.
Visit and run the checkup now and then.
Did you try "Your Most Used Words on Facebook?"
If you just ran your checkup, what apps or games did you get rid of?
Which pieces of information did you secure?