Some of you who know me well, know that my mom (birth mother), Stepfather Bruce, and youngest brother David live in Gulfport, Mississippi, close to ground zero for hurricane Katrina.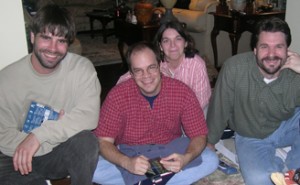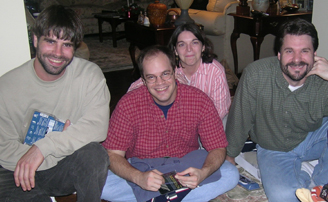 On Monday, August 29 she and Dave bugged out and hit I-10 Eastbound for Auburn, Alabama to get out of the way. I talked to her a bit while she was on the highway moving at 3 miles an hour – the same speed as Katrina.
Tuesday morning she, Dave, and the cats were safely ensconsed in their motel, while Bruce held the roof down at his school in Richton, near Hattiesburg. Later that day I couldn't get her on her phone as the winds and rain subsided and the water from Lake Pontchartrain started to seep and then rush into New Orleans. The cell towers are not functioning and it made me worried.
Wednesday, I got a call from my brother Chris, in Pendleton, South Carolina, and then a text message from Mom letting me know that she'd been home, and found only minor damage to their house. There was no water or power or any point in staying around there so she continued on.
Thursday I heard from Chris again that she was North of Baton Rouge and headed to Chris' wife's parents' place in St. Francisville, Louisianna to wait.
That's about everything I know for now.
I can't help thinking, in the midst of the tragedy that I will miss some of the things that I've previously enjoyed when I visit next. I will of course be happy to see my family and know that they are OK. I'll miss the beignets (pronounced ben-yays) and chickory coffee at Cafe du Monde. I'm not making light of the suffering people have there in the Gulfport, Biloxi and New Orleans areas. I can't help feeling guilty that I'm sitting safe at home, drinking filtered water and Dr. Pepper, and eating restaraunt leftovers while the people there are struggling to stay alive.
Want to help? Check out International Aid.
maybe it's just me…
Not too long after this post, I got email from my mom. I've added it [edited a bit] here. Mom is a Nurse Practioner for Dr. Libbys of Coast Cardiology, a very busy cardiology group covering a large area in and around Gulfport and Biloxi. It's a division of Encore Enterprises.
Our house survived with minimal cosmetic damage. Lots of damage to roofs & homes in our subdivision, but houses on our street were essentially spared. You may have seen the videos and photos of the Gulfport Grand Casino, dumped in the middle of US 90. To the east of the Oasis Hotel, across the street from that casino, is the Mississippi Power building, which is still standing, but severely damaged. Imediately east of the MP building was the Legg Mason building, where all of the tech, billing and other support for Coast Cardiology and Encore Enterprises was located. It is gone.

The Gulfport office of Coast Cardiology sustained heavy damage. Our Bay St Louis office is gone. Dr Libys' house in Long Beach is gone. Dr. Baker's house in Ocean Springs is gone. I haven't heard from the rest of the Docs, am still trying to reach the rest of our office staff.

I am currently at Jean & Mike Clark's home (Chris' in-laws) in St. Francisville, Louisianna, about 30 miles north of Baton Rouge. They have power, water, and gas. There is some rationing of the later, with shortages. Stores are running low on fresh produce. But we are safe, and were able to fill the tank of one car, and fill a couple of 5-gallon gas cans.

Water was restored to our home (in Gulfport) neighborhood yesterday, but we are under a boil water notice there. Power may be quite a bit longer due to downed lines & trees. The street light in front of our house is broken in half & hanging precariously.

Richton (where Bruce works) is in terrible shape with downed power lines and blocked streets. It may be several weeks before Bruce can reopen the schools. The High School lost it's roof. But we are safe and comfortable, thanks to the generosity of the Clarks.

Love to all

Robin Weigle