Leftovers again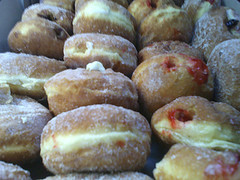 It's Fat Tuesday again – kind of a second Thanksgiving here on the brian-food blog. .flickr-photo { }.flickr-frame { float: right; text-align: center; margin-left: 15px; margin-bottom: 15px; }.flickr-caption { font-size: 0.8em; margin-top: 0px; }
Since we're still behind the picket lines of the writer's guild strike, here's a Phat Tuesday re-run, just like on TV.
Meanwhile, one of my co-workers brought in the Paczki this year – I need to go get one before they're gone!
I'd still like to know if anyone is making a sacrifice for lent.
…maybe it's just me?