Don't you just love a good burger? I know I do!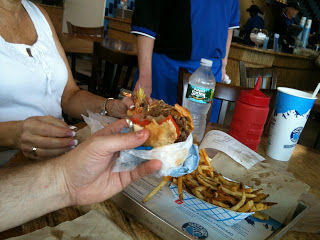 While my folks were visiting I took them to a new favorite place, Elevation Burger, and while I hate websites built in Flash more than steaming hot carbolic acid poured directly into my eyes, I love their burgers.
Ingredients matter and they have that down.
Organic (I really don't care)
grass fed (makes a difference) beef,
great cheese,
great fries – fantastic.
5 Guys is similar, with different beef + bacon and BBQ sauce.
Either way, you get a fantastic burger, great fries and a fun environment.
I don't live out West, so if you want to talk about In-n-out burger, go ahead, but I've had them and Wendy's is better.
Maybe it's just me?