Sometimes the sign outside a restaurant tells you what's served inside. Sometimes it doesn't.
I know that inside KFC they are not serving withered old southern gentlemen, and I pray that inside this place they are not serving the other-other white meat. Why is there a picture of a baby on this sign?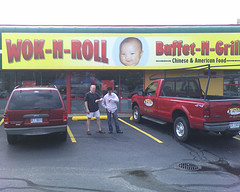 Wok-N-Roll
Wok-N-Roll the Buffet-N-Grill
Chinese & American Food
Notice that it's not Chinese-N-American food.
Dave and Paul were getting impatient with me while I took the picture.
It's your basic Chinese buffet, with a smattering of raw items for the grill at the end of the line. Nothing about the food is remarkable, but that sign… oh baby.
… maybe it's just me?