Out of the Peter Pan and into the fire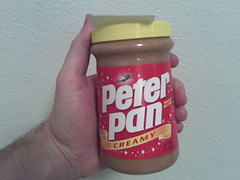 .flickr-photo { }.flickr-frame { float: right; text-align: center; margin-left: 15px; margin-bottom: 15px; }.flickr-caption { font-size: 0.8em; margin-top: 0px; }
Peter Pan Peanut Butter
Now with more real salmonella flavor!
Bad news – the batch number on the lid starts with 2111.
Good news – I get a $2.54 refund from Con Agra Foods
Bad news – I've eaten about half of it.
… I happen to know it's not just me.