Phat Tuesday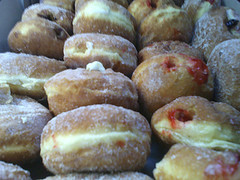 .flickr-photo { }.flickr-frame { float: right; text-align: center; margin-left: 15px; margin-bottom: 15px; }.flickr-caption { font-size: 0.8em; margin-top: 0px; }
Happy Paczki day everyone!
This day, set aside once per year, to celebrate gastronomic indulgence is a major holiday here at Brian-Food. It's a day dedicated to eating not only too much, but of the wrong thing. It's not good for you. I know it. You know it. The ingestion of a single half-kilo donut is never a good idea, let alone turning the day into a contest to see how many one can actually ingest.
Today I returned (unusually) to the scene of a previous blog entry in order to obtain the goods for this one.
The hefty donuts come in a variety of flavors – depending on the source. The following were available at this time.
Blueberry
Raspberry
Strawberry
Lemon
Custard
Prune
I'm told by my devout Polish friends that the sweetened prune filling is not only the most traditional, but the best tasting. I tried them once… ONCE – never again. I'm also not eating one of the lemon Paczki, as it violates food rule #1. I'll have to explain the food rules in a future post.
For today, please think about what you might-should-not eat.
… maybe it's just me?
PS – are you sacrificing anything for the season of lent – the few weeks approaching the recognized anniversary of Christ's resurrection? Why/why not?

P.P.S – the picture above has been picked up by a happy little news service.