Warning Social Media users – there is a new threat to your personal security and it is being perpetrated on Facebook as well as other social media like Google+, Twitter, and Pinterest. The posted virus can infect Windows and Mac users as well as various distributions of Linux. Put simply, if you're connected to social media at all, you need to be aware of this problem.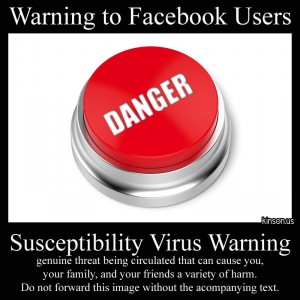 Once infected with this security breach, there is little to be done other than delete your accounts and start over or stop using these social media tools altogether. The viral distribution is spreading through people of all ages, genders, education, political leanings, religious beliefs, and occupations.

Social Media Users Must Examine Their Accounts For Symptoms
It appears that people are "uploading" content to these internet sites. This is content that they created, or obtained through various other means, such as text, stories, photographs, images, videos, along with certain comments and affirmations on those items. When these pieces of content are loaded onto a social media platform, they are on the company's "web servers" where they in-turn display them on the internet. When the content is uploaded, any personal copyright is often forfeited to permit the display of that content. The content is then shared by other users of the social media tools and the problem spreads. This is further aided by the use of tools like Facebook's "Graph Search" and "hashtags" (not to mention adding a "#" in front of a keyword or term) allowing people to find the content. The "search engines," such as Google, Yahoo, and others, further spread the problem through the use of technology known as "robots" that "crawl" these websites and many of these social media platforms in search of content.

Once content is in place, our friends and family members are equally at risk of spreading it. Some of the content is designed to be deceptive and malicious while others are cute and/or fluffy. Even professionals who use these tools on a daily basis have been known to spread content containing phrases like, "I ask you to do the following and comment 'DONE.'" or "share this with all your internet friends!" on their own pages and accounts. Many of them credit their seemingly knowledgeable friends as sources of the "content" and it spreads further.

These are not simply readers of tabloid journalism, forwarders of emails about Nigerian princes with piles of cash in a secret bank, and those attempting to get money from Bill Gates by sharing a picture of him holding up a sign. These unfortunate ones pass along a variety of information without checking legitimate sources first. They like, comment, retweet, repost, share, and pass along the viral content millions of times each and every day.

Sources good to check include but are not limited to:
Snopes
USA Federal Trade Commission
The name of this virus is "The Susceptibility Virus" or "Gullibility Virus Redux" and is often accompanied by an image of a large red button. The red button has no meaning and is simply added to draw attention. The only way we can stop the spread of the content is to stop sharing it without checking common sources first. Having said that, please help this cause by sharing this with all your friends and contacts, and re-post it through your social media accounts.