Are you approaching your social networking circles strategically?
(social networking introverts move along…) Most of us have Facebook friends by now and the Pew Internet & American Life Project estimates we average 229 of them.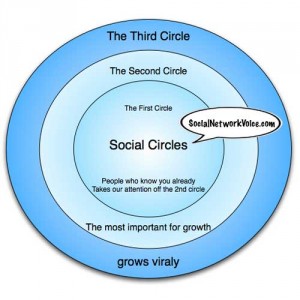 They also figure, on average, we make about 7 new friends per month. Some of those are people we already know outside of Facebook, and of course there are some whom we only know on Facebook. So, if you're trying to improve your reach, either on your personal profile or on a business page you can approach it strategically with circles.
The first circle – the innermost – is made up of people we already know. We have relationships with them, and they are probably friends of ours that we know offline as well as online. We like spending time with those people. We like to like and comment on their posts. We write on their walls (personally I hate that feature) and we invite them to events. Naturally, this is where we spend most of our time.
The second circle – between the outer and inner rings – are the people we don't naturally interact with either on or offline. We know them – sure, but not very well. We haven't added them as favorites or close friends and our interactions with them are less frequent. If we were in Jr. High – they would be the people who are not in our clique, our posse if you will.
The third circle – the outer ring – are the people we just met, only know online or haven't met yet. That's the part that tends to grow more quickly when we apply a simple strategy.
Try this for a month:
Only interact with your second circle. It's the most important for creating the viral growth that happens in the third circle. You'll likely find that you don't lose touch with your inner circle – they already like you. You'll also find that the friends of your second circle will start sending you friend requests. On a page – they start liking the page.
Let me know how that goes!