Brian Atkinson
Clean Comedy, Voice Actor, Speaker, Consultant
Brian Atkinson: Comedian, Voice Actor, Speaker, Consultant. Get to know Brian Atkinson. Clean comedy that's funny anyway. MC or an entertaining, educational, or inspirational talk for your church, corporate event, or conference seminar - I'm a speaker. From voiceovers for your local business or your national campaign to character voices in animation and games - use my voice. Maybe it's time for a consultant to help you understand and implement your digital strategy, communications, social media, or websites - I'm your guy.
Brian Atkinson - Audio Books
Brian Atkinson - Clean Comedy
Brian Atkinson - Your MC
Brian Atkinson - Use My Voice
Brian Atkinson - I'm A Speaker
Brian Atkinson - Consulting
I Love Tearable Puns
It's tough to put me in just one box. I used to work as a radio DJ. I do clean comedy. I'm an MC. I've done some acting on screens and on stages, and even some modeling. I've served as a Director of Digital Communications, and Digital Media. I've been a social media consultant, communications director, technology manager, church-planter, welder, and ice cream man.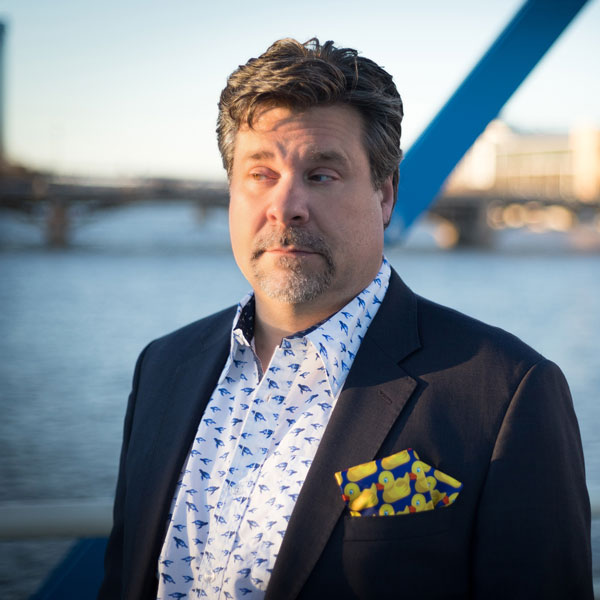 I've heard it said that some people's greatest fear is public speaking. There's actually no place I'm more comfortable. I have spoken all over the United States, and around the world in places like Philadelphia, Nashville, Dallas, Grand Rapids, Chicago, Wyoming, Portland, Toronto, Seoul, Budapest, Portugal, Germany, and Uruguay. I speak on a variety of topics, like social media, digital strategy, communication styles, adoption, SEO, and inspirational topics. I'm usually funny. Your audience will love me.