Looking for Clean Comedy Reviews?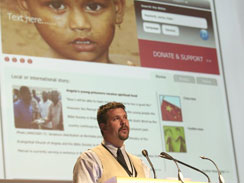 Kids' Life Bible Clubs hired Brian Atkinson as our keynote speaker for our annual fundraising dinner. Brian delivered an inspirational message called, "What Are You Doing With Your Lunch?" to our donors and volunteers. He encouraged them to deeply consider their involvement with our ministry, and why it was so important. He worked with us in advance to understand our audience, and the purpose of the evening. He injected a wonderful balance of humor and motivation into an important event in our year. I would recommend Brian Atkinson as a speaker for any Christian organization, conference, or fundraiser.
– Christy L. Ham – Executive Director – Kids' Life Bible Clubs
Brian combines a consummate professionalism with an outgoing personality. He shines when presenting complex ideas. Brian makes his deep experience accessible and engaging to diverse audiences. He channels his background in communications and voice work to connect effectively with audiences from many cultures. After one of his presentations, people notice the personality, but they remember the message.
– Oscar Benjamin & Peter Edman – American Bible Society
I have long argued that kids today learn differently. Brian's presentation made that very clear, and also helped underline the folly of expecting people of different generations to absorb information via the same means. His presentation was clear, informative and led us on a well-directed path.
Brian is a dynamic speaker and a funny, funny fellow. His presentation is easy to follow, nicely interactive, and he patiently answered questions from the audience throughout the day. He illustrated the benefits of keeping up with technological advances without overwhelming the fearful with techno-speak. They may still be intimidated or scared witless, but now they understand why.
Thank you for being so open in sharing your faith with us.
– Rhonda Swisher – Presbytery of Wyoming
Brian addressed our high school teens (Exit 31 youth ministry at BranchCreek Community Church), encouraging them to see that they are old enough to have an impact on the world. He was thoroughly entertaining and thought-provoking at the same time. The teens responded well to him – holding their attention and getting them involved in his presentation. We all would love to hear him speak again!
– Barb Delp – Youth Leader – BranchCreek Community Church
Thank you very much for your time as speaker at the United Bible Societies – Americas General Secretaries meeting in Montevideo, Uruguay. Your challenge to move from the printing world to digital work will have a considerable impact on the ministry of these 28 countries represented. Thank you very much for the useful content of your training, which will help our organization reach a new generation that communicates in a different way.
– Melvin Rivera Velazquez – Americas Area Secretary – United Bible Societies
Brian's insight and leadership in Internet Ministry was catalytic for our team. His presentation brought everyone into the discussion and spurred us on to new ideas, approaches, and enthusiasm for ministry online.
-Steven Koster – Back to God Ministries International
Brian Atkinson is a favorite speaker at our adoptive parent education sessions. He presents his very real adoption experience with heart, candor and humor. My clients have always appreciated his story and as a result of hearing it they have learned to look at adoption from various very important angles. Brian's insights on adoption, life, love and Jesus have touched us all in an enlightening and positive way. He will be invited back year after year to share his story and hope with us!
– Cathy Ann Raidna MS, JD – Executive Director – Greater Hopes, Inc.
Brian did a GREAT job of keeping the group engaged in what he was talking about. He welcomed input from the audience and would adjust the conversation as needed. The variety of techniques he used was a GREAT demonstration of what he was teaching.
– Trish Colson – Presbytery of Wyoming
Brian Atkinson is an engaging presenter who knows his material and aptly adjusts the information for the technology level of those attending. I know no better recommendation than to say I invited him to speak again.
– Kimberly Felton – Technology Track Programmer – Evangelical Press Association
Brian is an awesome emcee and really kept us laughing and motivated.
The content was explained in a manner even a novice can understand! Thanks.
Thanks Brian! Invaluable –This is the kind of info we can use almost immediately. Thanks for your time an efforts on our behalf!
– Internet Ministry Conference
When I was told a consultant would be coming to our event to evaluate us I was a little nervous. My first meeting with Brian Atkinson put me completely at ease. He was upbeat, professional and encouraging. Having him at our event was a great way to get honest feedback in a constructive manner. He is personable and strategic. Brian gave us a detailed report at the end of our event that was intuitive and insightful. I would love to work with Brian again and consider him not only a great consultant, but passionate about helping others grow.
– Julia Wurst – Conference Coordinator – Association of Christian Schools International
Mr. Atkinson coached our team to success! Our organization's unique culture made it challenging for our department to establish a direction and determine priorities. With Brian's help we've been able to find traction and gain momentum that has moved us forward in significant ways. We'll continue to access his expertise when we stall or have questions about a new venture. And he didn't just coach us from the sidelines – he got into the game with us, encouraging and correcting our strategies. He strengthened our game and we're stronger for it!
– D'Arcy Maher, MEd – Director, Early Education Services – Managing Editor, Christian Early Education Magazine
Brian has been a welcomed relief from the chaos of organizing and promoting an event. Everybody on our vendor team really needed to step up and take responsibility for doing their part to create and promote this annual race – and Brian did just that, and so naturally. I was able to simply hand over the graphic design work already established through our printed and promotional materials, and Brian "magically" translated the look and feel and content to the website. I have so appreciated his willing spirit and dedication to getting work done in the most efficient way possible.
– Rachel Hyde, Art Director & Marketing Consultant, The Brian Diemer Amerikam 5k Race